This article describes the interactions between Sierra and Cody.
Sierra and Cody's first "interaction" happened when Sierra sneaked on Cody's room at night, being briefly watched by a jealous Eva.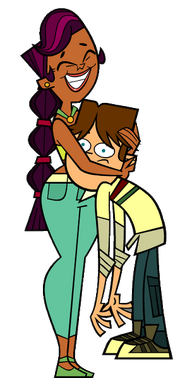 Sierra would later join Cody's team during the blimp race challenge. During the challenge, Sierra would constantly hug Cody against her chest, keeping him from talking or even breathing, and usually other contestant had to rescue the boy from his enthusiast fan girl.
At the end of the challenge, Eva picked Cody to go with her, and he was free from her grasp. Sierra sulked in the cafeteria, missing her ride out of the stadium, as she lamented how she had missed out on her chance with Cody, and talked about it with Carol.
Community content is available under
CC-BY-SA
unless otherwise noted.