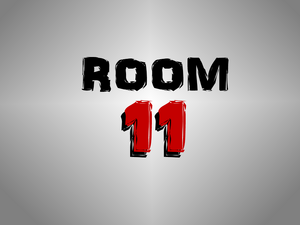 Room 11 is one, as well as the last, of the eleven bedrooms where contestants spend the night in Total Drama Battlegrounds. Its original inhabitants are Valerie, Xander, Yoshi, and Zachary.
The room started off in turmoil, with Zachary and Yoshi feuding right from the start. Yoshi couldn't stand how Zachary kept insulting his ethnicity, and the whiner would always challenge him. Valerie was at first disgusted to be in the room, but then she realized she was with three handsome men and thus she felt very happy; she has grown excited when the guys touch each other, being a bit of a yaoi-fangirl.
Zachary cut and put glue in Yoshi's hair one night, but the warrior still stays in the room.
Valerie and Zachary have started to have an affair, thus them spending more time in another room; Zachary claims it's to get away from Yoshi and Valerie from the boys.
Residents
Edit
Current
Valerie: Great. Just great. I'm stuck in a room with three guys. Can you believe my luck? *She frowns bitterly at the camera for a few seconds, then the idea sinks in. Her eyes widen, then she grins.* Stuck in a room with three guys... and no cameras in the room! Oh wow, this is a dream come true! Oh, I hope that biker boy doesn't have a girl back home, he's so fine!
This is one of two rooms in which the original four inhabitants are all newcomers; the other is Room 1.
Yoshi keeps his sword in the bedroom for the most part, as he isn't allowed to carry it for most challenges.
This room is the most tedious of all the rooms currently.
This room started with members who had the last three letters of the alphabet: (X)ander, (Y)oshi, (Z)achary. It is also the only room that has all four starting members having names that start with different letters.
This was the eleventh room to be introduced in Rookies vs. Veterans.
None of them have been eliminated to date.
Community content is available under
CC-BY-SA
unless otherwise noted.