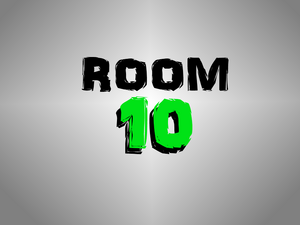 Room 10 is one of the eleven bedrooms where contestants spend the night in Total Drama Battlegrounds. Its original inhabitants are Sandra, Sebastian, Trent, and Tyler.
When the contestants arrived in Rookies vs. Veterans, Sandra locked Trent, Tyler, and Sebastian out of the room, stating that she needed time to unpack on her own. They pretended that they didn't care, which greatly upset the popular brat.
After Sandra was eliminated, the guys threw a small party to celebrate her ouster. The room very quickly became a mess, due to having three admittedly messy guys in it, especially Sebastian. Unbeknownst to them, Chico the Raccoon moved into the giant mess, and they didn't realize it until several days later.
The room is full of trash, trophies from the ceremonies, pizza boxes, and a variety of other things.
Residents
Edit
Current
Former
Tyler: The guys I'm rooming with, they're both pretty cool. But Sandra... yuck, it's like a rerun of Heather. With bubbles. And red hair. And a tattoo. She's got a freaking tattoo of bubble gum on her arm, is that messed up or what? *He ponders this for a moment, then smirks.* If I get a tattoo, I'm getting a metal baseball bat on my arm, because that's how strong it is!" *He flexes.* Rrrr!
With Sandra voted off, this room was the first to lose one of its original members, and also the first where all of its remaining members are the same gender.
This room became the dirtiest soon after Sandra's elimination.
Chico lives in this room as well, and partially responsible for the mess.
Community content is available under
CC-BY-SA
unless otherwise noted.